How it works:
4 favorite blog posts-
This one is pretty self explanatory. Post the links to your four favorite posts from the month.
4 favorite Instagram posts
-Highlight the top four photos that you posted.
4 favorite Pinterest pins-
Make any cool projects or awesome recipes?! Whether it's your pin or someone else's, I wana see it!
4 favorite friend's posts-
That post that your bloggy BFF posted that you just love, post it here!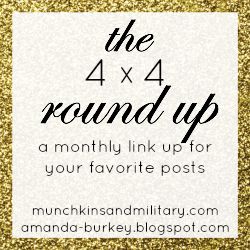 My 4 Favorite Blog Posts:
Toddler Play Area
Give Me All The Spring Things
The D Family//Country Shoot
20 Months!
My 4 Favorite Friends Posts:
Sooo as most of you know we just got back from Vacation and I failed at keeping up with reading Blogs so I am skipping this one this month. BUT I look forward to seeing everyone else's picks.
My 4 Favorite Instagram Pictures:
My Top 4 Pins:
DON'T FORGET TO LINK UP!